Now on sale here !
Major new book of Fantasy, Love, Poetry, Art !
The art-heavy 'dreamweaver - the poems' is now available here as a lovely print book, or as a cheaper but higher quality Ebook with Search and Zoom ! (and you can print it, see below)

"Change the way you look at things, and the things you look at will change" - a view colouring this overall optimistic view of life, fun, friendship and romance.

The poems in this book relate to the difficulties as well as the joy of building a relationship, and of how two people find out about one another, and of being 6000 miles apart in the meantime. A story that crosses, from South Africa to Dubai and The Ambassador Tank, the largest sea life tank in the world. And from Morocco to the south coast of England. It may seem at first to be an eclectic mixture, but, as dreams sometimes start in a fragmented fashion, so necessarily does this book, with the main elements falling into place as it progresses. Real life, as we know, does not always rhyme or just slot into place, it follows it's own natural order as does this true to life story.

Fantasy and art are used as aids to fathom the deeper true thoughts and feelings. They are real, and there to see. The pleasure and the pain, that is created by someone living 6000 miles away telling you that they really like you, and you can't hold them - this is real life.
"My dearest friend", written on a beach, seriously thinking of how to get from England to South Africa. From "Life's greatest gift", all the way to the climax of the story "The battle for destiny", how two people learn to communicate with each other and fight some of their "Inner demons", as well as pre-conceived ideas of what is and what is not practical and possible in life. With a tantalising glimpse at the end of maybe what is to come.

Maybe too, in the end, you may think a 'dreamweaver' exists, that is for you to decide, and, you might even start to believe too that ... In a world of possible, nothing is Impossible ! Like following a deeper Big Brother, you discover the deepest shifting thoughts of both parties in a real developing love relationship. An unconventional romance of internet friendship and cyber love. A modern poetry work including different dream dimensions, and not without the occasional Dragon and Faerie for the occasional Dragon and Faerie lover
'Dragon'. p4 -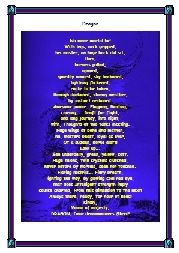 .. 'Hope'. p5 -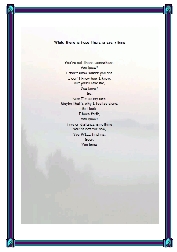 The Authors :
Sonja-Marié Peacock. Born in Sasolburg, South Africa in 1963 of an Afrikaans speaking family and attended Middelburg High School. An artist concentrating on scenic art painting and sculpture and also a writer and poet.
Loves :- Nature, the outdoors, metaphysics, art, writing, poetry, ballet, music, photography, the underpriviledged and charity.
Andrew John Weaver. Born in Reading, England, in 1958 the eldest of five children and attended Walsall Blue Coat School. A fibreglass engineer, writer and poet.
Loves :- Chess, walking, swimming, nature, the outdoors, art, music, poetry, environmental problems and hopefully solutions.



Other books involving Andrew Weaver and Sonja Peacock include,
'The Storie Of Faerie Glade' and an 'A Viking Epic' series.