Love this Grimsby Trawler plastic kit of the Ross Jackal.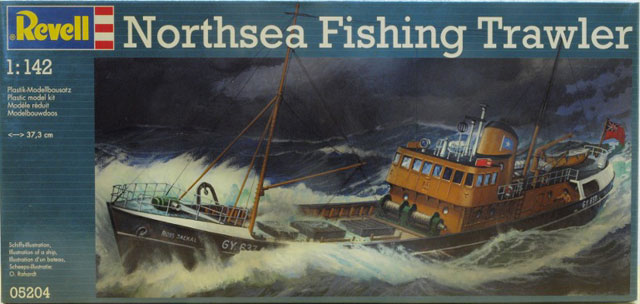 The Ross Jackal fishing trawler(1959 to 1985 when refitted and renamed Cam Jackal) was famously the last of the line of Ross trawlers bought for the Grimsby fishing fleet.
Built for battling against the elements and pitiless sea, at 355 Gross Tons and 130 feet long it usually had a crew of 19 men. Many of the old fishing trawlers of this type were later refitted for other uses like supplying oil rigs.
This trawler kit comes with a detailed hull and deck structure, railing and inflatable life-raft containers, radar masts, two masts, one life boat, double cable winch on deck, and two figures.
On sale for £18 at this kit model boat design is actually true to the actual Ross Jackal and its sister ship Ross Tiger - .